Written by María Navarro
What is user experience and what is it for?
The User Experience (UX) is everything that a person perceives when interacting with a service or product at the time of consumption or when browsing a website, app or system. The objective is that the user has the feeling of being in control and everything is recognizable and intuitive for him.
The main aspects taken into account by the UX are:
Interaction.
Communication style.
Although the concepts SEO and user experience sometimes seem to be very distant, the truth is that nowadays they could be considered as disciplines that share the same objective and should go hand in hand.
A few years ago websites were ranked almost exclusively on keywords and backlinks. Today, this has changed considerably thanks to the constant updating of Google's algorithms to ensure that users receive the best possible results.
Every day, more than 4 billion searches are performed on this search engine. From each of these queries, Google extracts a large amount of data that is used to improve its algorithm in order to:
Provide the most accurate results possible in relation to the user's search intent.
To offer the best possible user experience.
Show quality websites.
To achieve this we cannot focus exclusively on the content of a website, but increasingly we must take into account other factors such as user experience.
Over the last few years, website ranking algorithms have been evolving, giving greater importance to the user experience, which has become an increasingly important factor when evaluating a page. Therefore, having a good user experience will help us in ranking in the SERPs, benefiting organic positioning.
A well-worked SEO will achieve a good position in search engines attracting users to the website, and good UX development will ensure that the user has a good user experience. The more visitors are able to navigate easily, find the information they are looking for and, therefore, stay longer on the website, generating a greater opportunity for conversion.
The evolution of classification factors
Sometimes there is a misconception that SEO work only involves including relevant keywords in content, getting external links or improving internal linking.
With what you may come to think:
Content with keywords + title + links = good website ranking.
But this is not the current reality. It is true that these are important points, but as mentioned above, search engines are evolving and consider other factors for ranking websites.
Just as Google updates its algorithms, we professionals in the sector must evolve and adapt to its new requirements, so we must value and work on everything related to user experience.
Since when is user experience important for SEO?
It all started in 2015 with the arrival of RankBrain: Google made it clear that it was betting on user experience and that it would be the third factor to take into account after content and links.
RankBrain is an algorithm based on behavioral metrics. An artificial intelligence system that helps Google to know if the user is "liking" the experience on the website and, to do so, takes into account different metrics: bounce rate, dwell time, page views per session and organic CTR.
As the ranking method has evolved, both Google and other search engines have incorporated elements such as:
Is your website…
Secure?
Fast?
Responsive?
Easy to navigate?
Content responding to the user's search intent?
Content of sufficient quality to keep the user on the page?
…
User experience will be a stronger ranking factor in 2021
On Thursday, May 28, 2020 Google announced that the search ranking algorithm was changing, putting a greater focus on the importance of the user experience of web pages.
With this, they have presented an initiative called Core Web Vitals, which are a set of metrics that quantify key aspects of user experience such as usability, load time, content stability as it loads and interactivity.
Load – Largest Contentful Paint (LCP): this metric measures the load performance of the content. It marks the time when the main content is rendered and therefore available for viewing by the user. For the user experience to be considered good, it is recommended that the LCP be below 2.5 seconds.
Interactivity – First Input Delay (FID): analyzes and measures the capacity for rapid interactivity, i.e. the time that elapses from the moment the user performs an action on the website until the browser responds to the interaction. To be considered as having a good FID a page must have a FID of less than 100 milliseconds.
Cumulative Layout Shift (CLS): this metric measures visual stability. It helps quantify the frequency with which users experience unexpected design changes, such as elements of a page shifting as content appears on the screen, which is commonly considered annoying.
This metric does not measure time, in this case it quantifies the magnitude and frequency at which these unexpected design changes occur. To provide a good user experience in this regard, pages should maintain a CLS of less than 0.1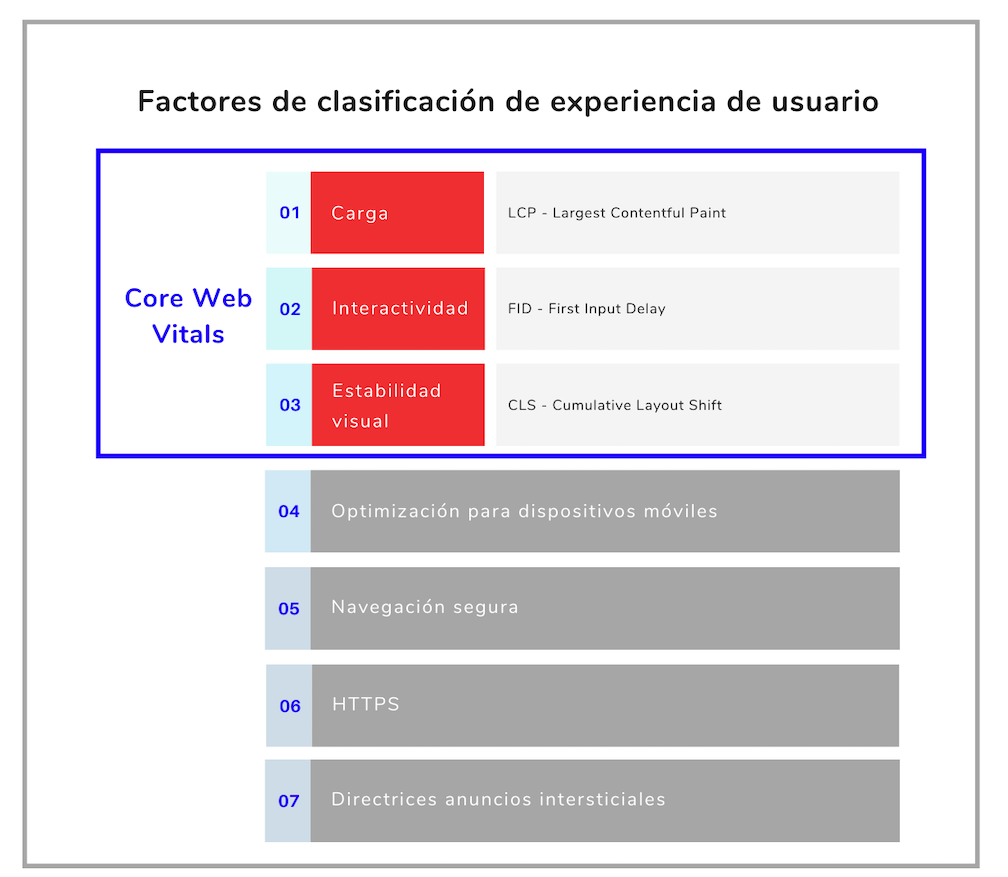 All of these factors are in addition to existing ones such as mobile optimization, secure browsing, HTTPS and intrusive interstitial ad guidelines.
Google's goal is to increasingly align itself with user expectations, so that users can more easily access the information they are looking for.
To help developers understand how Core Web Vital is going to be measured and to detect and fix bugs in websites, some tools such as Lighthouse and PageSpeed Insights have been updated. Additionally, Google Search Console will provide a data report to help site owners quickly identify opportunities for improvement.
However, in cases where there are several landings with similar quality content, the page with the best user experience will have the highest visibility in the SERP.
According to Google, all these changes will not occur until next year 2021 and will be announced at least 6 months in advance, which gives us designers, developers, SEO and companies to get down to work and start working on all aspects that can improve the user experience of our portals.
If the user experience is a ranking factor for search engines, it is something that we must necessarily take into account when working on a website with the aim of improving its positioning.