Written by Aurora Maciá
What is Keen
A few days ago, Google announced the launch of Keen, a project of Area 120 (Google's workshop for experimental products) in collaboration with the team at Google's People + AI Research (PAIR) (dedicated to human-centered artificial intelligence systems). The idea is simple, as Search Engine Journal explains at Google Creates a New Source of Traffic With Keen: "Keen actively searches for and suggests relevant content to users. A seeker is passive. He waits for someone to ask him a question. Keen is proactive. Thus, in Keen we would determine what we are interested in and we could curate and save content that we find ourselves, our friends or that the machine learning algorithm recommends to us.
A new source of traffic
If we want to draw an analogy, the user would use the search engine in the same way as the channel numbers on the TV remote control. However vague it may be, it already has an identified search intent and the search engine works to satisfy it with a particular result. Keen would be more like zapping, an intelligent zapping that learns as you use the interface and shows you the channels (or, in this case, the content) that you might be most interested in before you search for them. In this way, Keen would postulate itself as a new source of traffic and popularity for websites.
Keen vs. Pinterest
Some people compare this project to Pinterest, since it allows you to collect your favorite links on any topic in folders or "keens" (what in Pinterest would correspond to "boards") and share them with whomever you want, thus putting a foot in the social networking arena. You could also follow the "keens" created by other users. In fact, Keen's initial idea was born out of a married couple's need to share their interests in a more efficient way. CJ Adams, co-founder of Keen, and his wife wanted to start devoting more time to their passions and the first stage of that journey was to search the Internet for information. That's when, as he recounts, "we realized that collecting related ideas, links and resources together gave us a way to invest more time in our shared passions in real life." However, what differentiates this proposal from Pinterest is that Keen would draw from the other cogs in the Google machine, namely the search network, News and Discovery.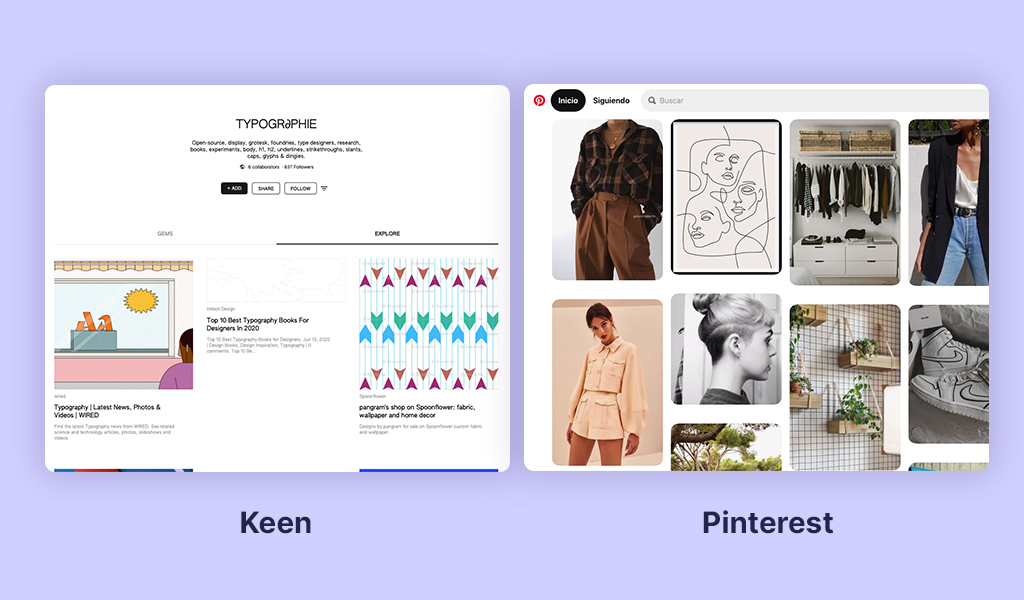 Will it survive? Place your bets
Although this idea is not new, as content repositories have taken different forms and colors but have been around for many years, the oversaturation of information to which we are currently exposed may have prepared a perfect ground for this type of initiative to flourish and become more relevant than ever.
Nevertheless, some are already writing the date on Keen's tombstone in the well-known graveyard of unsuccessful or failed Google projects. This is not the first time that Google has tried to meddle in the world of social networks only to be kicked out the back door. If we read some reviews left by users on GooglePlay, the most repeated phrase is"it has potential" (along with many suggestions for improvement and some praise). Time will tell if this potential will make it survive or if we will soon see this project next to the guillotine icon. If you try it, let us know what you think in the comments.