Written by Maite Beltrán
Ad extensions are an ad format or a part of the normal ad that helps to expand the information we give the user about our services and/or products.
They are important because they help us to better capture the user's attention, provide relevant information and their length is greater, which increases the likelihood that the user clicks on the ad by providing more link to our website. In other words, thanks to the ad extensions we have more visibility and our ads have more value, since by increasing the (possible) number of clicks, our CTR improves.
They play a key role in calculating the level of quality and ranking of the ad, so it is essential to take them into account. Extensions can be set at the account, campaign and ad group level. This allows us to customize each of the extensions as much as possible according to what the user is looking for.
Google Ads shows ad extensions when it thinks they will improve ad performance and when we have a high enough ad ranking for them to appear.
In addition to the extensions that can be created manually, Google Ads creates automatic extensions on our ads when it predicts, as we have already mentioned, that these will improve the performance of the ad. In the case of these automatic extensions and unlike the ones we create manually, no additional configuration is required, AdWords extracts them based on the search and the landing page.
Types of Google Ads extensions
Highlighted text extensions
With these extensions we add descriptive texts of our product or service to give more information to the user. For example: free shipping, 24-hour shipping, customer support, express service, etc.
These types of extensions are available for search network and search network campaigns with display selection.

Site link extensions
We can add links to certain parts of our website to take users directly to the section that may be of most interest. For example, if we have a shoe store, we can show the web part of where our stores are, special offers, outlet (if we have one), etc.

Adding extensions to our ads does not involve any additional cost. We will pay the cost for the click on the ad that we would normally pay if the click was on the statement. Clicks on reviews and ratings extensions are an exception as there is no charge for them.
Site excerpt extensions
This type of extensions highlight important and/or relevant aspects about our products or services. This information helps users to learn more about the company and what it offers. We can establish excerpts of neighborhood sites, college majors, insurance coverage, courses, destinations, styles, featured hotels, brands, models, programs, services, additional services and types.
Not in all sectors we can use all extracts, but usually for the sector you are in you will be able to set site extract extensions. An ad can show up to two site excerpt extensions at a time and it will be Adwords who decides which extension is more suitable for each search, so the more extensions the better. And that goes for all types of extensions.
Call extensions
This type of extension allows us to add our phone number to an ad so that the user can call us directly without entering our website and having to search for the phone number. These types of extensions usually increase the number of clicks that our ads receive and usually help to improve indicators such as CTR.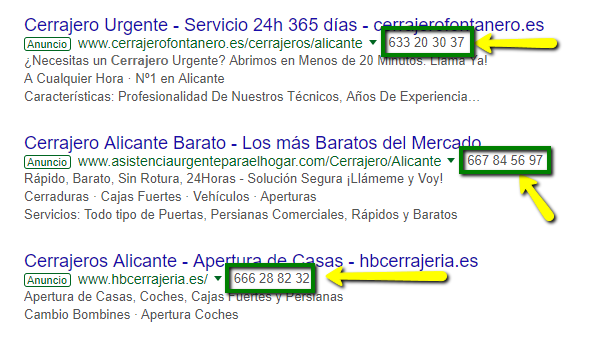 In addition, they allow you to configure a business schedule so that the phone is only shown in the ad when we are sure that we are going to be in the office or that we will be available to answer the call. Another very positive aspect of these extensions is that they allow us to keep track of conversions more easily, since, when activating the extension, Adwords gives you the option to activate the report of phone call conversions and thus keep track of them. This conversion can then be configured as you prefer in Tools > Conversions.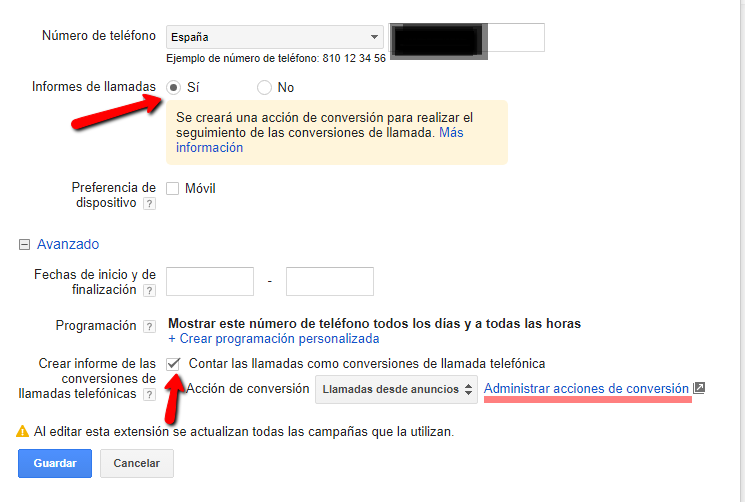 SMS Extensions
This type of extension is much newer than the rest and allows your ad to display an icon and the user, by clicking on it, can send a text message directly.
Adwords also allows you to configure a small predefined text so that when the user opens the message he/she already has the text written and only has to add what is necessary. For example, if you are an academy for medical exams you can configure a predefined text that is: "Hello, I want information about the schedules you offer". In this way, the user will only have to click on send, and you will be the one who will have to give an answer, being able to call or reply to the message.
These extensions are only available for mobile devices and a great advantage is that once the customer contacts you you increase your database so that you can always contact them to launch promotions and ads that may be of interest to them, without being intrusive of course.
Location extensions
The location extension allows the user to know where your establishment is (restaurant, workshop, store, etc.) including an address, a map of the location or even the distance from where he/she (the user) is located to your company.
The user can click on the extension to get more information on your location page (Google My Business). For example, if you have a repair shop and a user needs to go there, when they search for: repair shops nearby, the extension will let them know the distance to your location, the address, have a call button and access to a page with details about your location, hours, photos, reviews, etc.
Affiliated location extensions
In many cases, there are companies that carry out the production, but do not have their own stores. In this case the affiliate location extensions are perfect as they allow you to add information about the stores where your product can be found. In this way you are helping the user to reach your product in a simple way, promoting interaction and interest despite not having your own store.
Price extensions
With the price extension you can give even more information to the user since he knows from the first moment what the product or service he needs is going to cost him. They are displayed below the ad on both desktop and mobile, which also allows you to get much more space on the user's screen and better capture their attention.
Let's say you have an offer on a highly sought after product, you can give the user the option to go directly to that product on the web and convert without having to go anywhere else. It is much more straightforward. You can customize them as you like and changing them doesn't take too much time. They are simple but very effective extensions. For example, if you have a shoe store and you know which brands such as adidas, nike or new balance sell the most, you can create price extensions by brand and even, in more detail, by models of each brand. That way you take the user exactly to the product they are looking for.
Application extensions
This type of extension, of course, can only be used if you have an application and help you in this case to display a link below the ad that directs users directly to the app download. The main objective is in this case, of course, encourage application downloads. If you have an app, app promotion ads are ideal, but we'll leave that for another post 🙂
Review extensions
As we well know, today, all users before buying a product, trying a new restaurant or ordering a service. we are looking for opinions of other users who have tried it before and help us to know if what a certain company offers is going to live up to our expectations. For this purpose, review extensions are perfect. They help us to give greater visibility to our business and build trust and brand image in the eyes of potential consumers. They should be focused on the company in general rather than a specific product, so they will be relevant to all ads displayed with that extension.
In order to use these extensions we have to enter the review obtained and link it to the exact source from where we have obtained it. These reviews only work on computers and for the search network. It is advisable to consult all policies on review extensions before submitting your review for review.
Advantages of adding extensions to your Google Ads ads
Within the ad extensions, each one shows many advantages, but on a general level, the advantages of adding extensions to an account are:
They help users obtain more information about products, services and the company in general. In this way, users can get an idea of what we offer before clicking on the ad.
Improve return on investment. As mentioned above, offering additional information can increase the relevance and click-through rate of ads from users interested in what we offer and, consequently, improve ROI.
More exposure at no additional cost from AdWords.
Flexibility, as we can add extensions at the account, campaign and ad group levels.
Detailed reports: we can know how many clicks each part of the ad has received when an extension has been shown. We can know the number of clicks on the statement, on the extension, on the telephone…
Easy editing: you can change the extensions as you wish, revise them, create new ones, set them to last for X amount of time, etc.
In short, your campaigns must have extensions if you want to get the most out of your budget and achieve the highest possible quality in your account. So, what are you waiting for to set them up? If you have any doubts, at Human Level we are always ready to help you with the management of your Google Ads campaigns 😉